ITRI – ICDI – ICLEI to cooperate on sustainable development for local governments
ICLEI, ITRI, and ICDI on 30 March 2023 jointly signed a technical cooperation agreement on local energy governance to accelerate the urban net-zero transformation.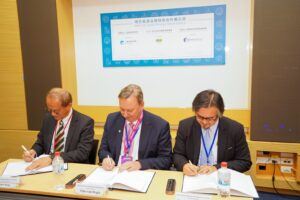 Cities are considered to be important hotspots of global energy resources and emissions, but there are few evaluation tools and frameworks for local governments in energy governance. Since 2020, ICLEI KCC, Industrial Technology Research Institute (ITRI) and International Climate Development Think Tank (ICDI) have been jointly developing the Local Energy Governance Rating System (LEGRS) to provide guidance for local governments to invest in areas such as energy infrastructure, residential building policies, commercial building policies, etc., to enhance their energy governance capabilities and industrial competitiveness, and further align themselves with relevant international energy standards.
ICLEI has long been committed to the sustainable development of local governments around the world. In recent years, it has also actively promoted urban net-zero transformations and local sustainable energy development through policy and technical assistance, capacity building, and peer network exchanges, including ICLEI's global Climate Neutrality Framework, GreenClimateCities, its 100% Renewables Cities and Regions activities, CDP-ICLEI Track, etc.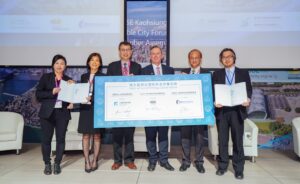 ICLEI KCC, ITRI, and ICDI held the Kaohsiung Smart Sustainable City Summit Forum and ICLEI Membership Meeting on March 30. Under the witness of city representatives from across Chinese Taipei, the tripartite cooperation memorandum was signed. In addition to promoting the LEGRS guidelines and tools, it is also expected to promote the development of local urban industries, accelerate the energy transition, and build local energy governance capabilities.
LEGRS is a self-assessment tool for local governments to evaluate their own energy transformation. Based on the past experiences of cities, a total of 32 indicators across 6 dimensions were developed. These indicators can refer users to international standards, provide guidance and governance frameworks for the energy transition, enhance local energy governance capabilities, and guide local governments to continue to invest resources to facilitate industrial development and the long-term realization of energy transition goals.
At present, all city partners can download LEGRS guideline and self-assessment system through the ICLEI website here.
If your city is interested in becoming a LEGRS pilot city, or if you have other related questions, please contact: iclei-kaohsiung@iclei.org